Cambridge Acoustic Nights
CB2 5/7 Norfolk St, Cambridge CB1 2LD

Julia's tea rooms, High Street, Ely CB7 4JU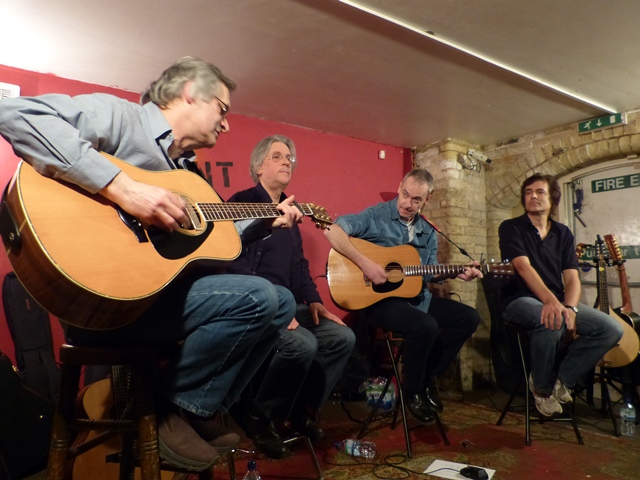 The Listening Post
Click here (or ear) to listen to samples from regular performers at Cambridge Acoustic Nights. There are also videos of live performances here.

About Us
If you enjoy Acoustic Music on a Saturday night why not come to a fabulous evening's entertainment? We run unplugged acoustic open stage events at CB2 in Cambridge twice a month. We also run events in Julia's Tea Rooms in Ely on Friday evenings once a month.
Do you play or sing yourself?

If you'd like to play then entrance is free. But make sure you book a two-song slot beforehand - we are always full by the time the evening arrives! Contact us now to join our email list or find out more.
We sometimes also have a featured artist, but please do not contact us to request one of these - we offer featured slots to people who have come along to the open stage evenings.

Scroll down for details of the next Acoustic Nights.

Click here to visit the What's On page
We share CB2 Saturday evenings with Strummers who provide music with a social conscience.

Tickets & Performers click here or contact Dave Streatfield on 07734 504274

'The crowd is always attentive and the atmosphere friendly and informal... I would recommend that you get down to one of the great open mic events run by Cambridge Acoustic Nights' Weekend Notes
September 22nd: Open stage at CB2 with Columbines

Our next open stage evening at CB2 will be on Saturday September 22nd. Our special guests will be Columbines.
Columbines are an acoustic Folk/Americana trio specialising in original songs and self arranged versions of traditional
and lesser known folk songs. They are recognised for their striking use of close harmony singing, often a cappella, and their diverse range of
instruments such as cello, Irish bouzouki, classical and steel string guitar, and percussion
Our other performers will include:
- The Playdos
- Gees Boland

- Kevin Johnson

- David Wilson
- John Meed
- Rhys Wilson
- Dave Streatfield
If you'd like to reserve tickets please email us via the link below or phone Dave on 07734 504274. If you book beforehand to eat at CB2, tell them you are coming to our gig and they should give you a 10% discount. Click here


Doors will open at 8pm and the music starts at 8.30; tickets are £4. CB2 is in Norfolk Street, Cambridge CB1 2LD. Phone Dave on 07734 504274 to reserve tickets
.
8.30pm Tickets £4.00. Tickets are likely to be available on the door.
Friday 5th October at Julia's Tea Rooms, Ely
Our next gig at Julia's Tea Rooms on the High Street in Ely will be the album launch of our good friend Jo Ash.

Captivating singer-songwriter Jo Ash is making waves with her unique style, expressing her passion for creativity and performance. She has released two EPs - Lucid Dreams and Locked In. Jo's stage presence has been described as mesmerising. Sometimes likened to Kate Bush and Tori Amos, yet maintaining uniqueness in her style, she has the ability to reel audiences into her world during her live shows Tonight she will be launching her debut album - Constellations.
We will also welcome sets from Columbines, Helen Woodbridge, Playdos and Dave Streatfield and friends
The doors open at 6.30pm and the music starts at 7pm. There will be a buffet break at around 8.15pm and it is a licensed premises. Tickets prices as follows -
TICKETS FOR THE MUSIC £ 3.00 ADVANCE . £ 4.00 ON THE DOOR
TICKETS FOR THE BUFFET £ 7.00 ADVANCE . £ 8.00 ON THE DOOR
Tickets can be booked either through Julia's Tea Rooms or calling Dave on 07734 504274