Cambridge Acoustic Nights

- CB2 5/7 Norfolk St, Cambridge CB1 2LD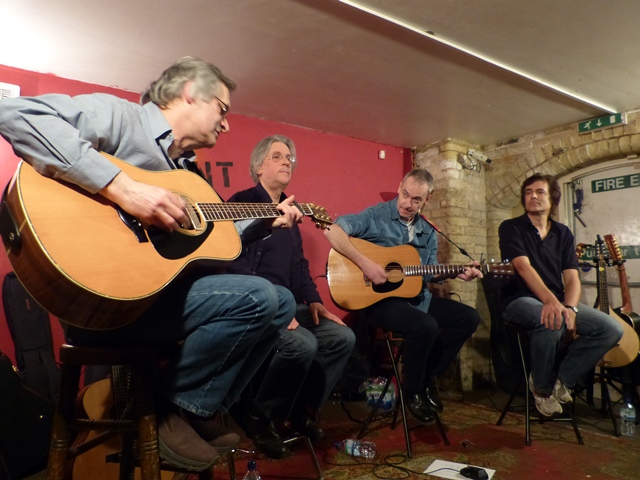 The Listening Post
Click Here (or ear) to listen to samples from regular performers at Cambridge Acoustic Nights. Visit the Listening Post page regularly as it will change and grow. There are also videos from the basement sessions here.

About Us
If you enjoy Acoustic Music on a Saturday night why not come to the CB2 basement and have a fabulous evening's entertainment? We run unplugged acoustic open stage events in collaboration with Acoustic Routes, two or three times a month.

Do you play or sing yourself?

If you'd like to play then entrance is free. But make sure you book a two-song slot beforehand - we are always full by the time the evening arrives! Click below to join our email list or find out more:
We sometimes also have a featured artist, but please do not contact us to request one of these - we offer featured slots to people who have come along to the open stage evenings.

Scroll down for details of the next Acoustic Nights.

Click here to visit the What's On page
We share CB2 Saturday evenings with two other organisers. Acoustic Routes feature concerts with some of the best acoustic performers from both sides of the Atlantic. Strummers provide music with a social conscience and provide a showcase for local and young musicians.

Tickets & Performers click here or contact Dave Streatfield on 07734 504274

'The crowd is always attentive and the atmosphere friendly and informal... I would recommend that you get down to one of the great open mic events run by Cambridge Acoustic Nights' Weekend Notes

Sept 24th 2016 Open Stage with special guests Ruby Muse

On Saturday September 24th we are hosting an Open Stage with special guests Ruby Muse (website here) – singer-songwriter/composers Jools Heyes and Malcolm Heyes who are making a name for themselves with dynamic recordings and live performances. Their electro-acoustic sound wraps alt-blues, folk-rock and Americana around songs with strong lyrics and intense themes – then sprinkles them with touches of '70s flower-power and prog-dust to create something truly distinctive and memorable. Ruby Muse music has aired internationally on radio, TV/Film and the web. Jools is also a published poet and practising artist. 'Emotionally charged and atmospheric songs that grow in stature on each hearing.' R2 MAGAZINE

We will also have a range of local performers:

Chris Fox
Tandy Harrison
Jeremy Harmer
Haseeb Arshad
Miranda Pender
David Wilson
Rhys Wilson
Dave Streatfield
John Meed

If you'd like to reserve tickets please contact Dave Streatfield on 07734 504274 or contact John Meed by clicking on the Open Stage logo below.


Doors will open at 8pm and the music starts at 8.30; tickets are £4. CB2 is in Norfolk Street, Cambridge CB1 2LD. Message us if you'd like to reserve tickets
.
8.30pm Tickets £4.00.

Tickets are likely to be available on the door.