Cambridge Acoustic Nights

- CB2 5/7 Norfolk St, Cambridge CB1 2LD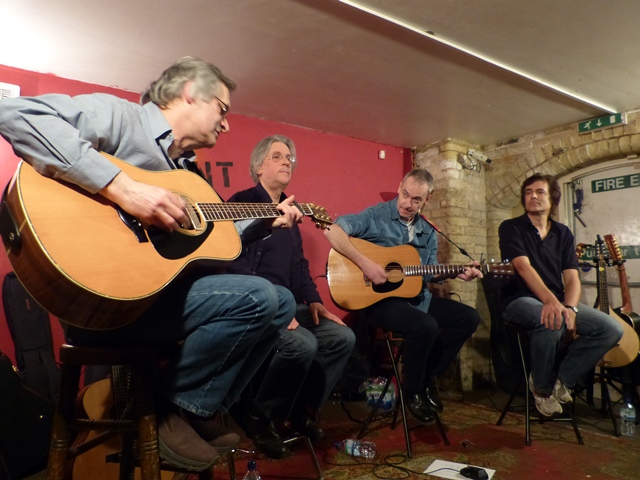 The Listening Post
Click Here (or ear) to listen to samples from regular performers at Cambridge Acoustic Nights. Visit the Listening Post page regularly as it will change and grow. There are also videos from the basement sessions here.

About Us
If you enjoy Acoustic Music on a Saturday night why not come to the CB2 basement and have a fabulous evening's entertainment? We run unplugged acoustic open stage events two or three times a month.

Do you play or sing yourself?

If you'd like to play then entrance is free. But make sure you book a two-song slot beforehand - we are always full by the time the evening arrives! Click below to join our email list or find out more:
We sometimes also have a featured artist, but please do not contact us to request one of these - we offer featured slots to people who have come along to the open stage evenings.

Scroll down for details of the next Acoustic Nights.

Click here to visit the What's On page
We share CB2 Saturday evenings with 'Strummers' Strummers provide music with a social conscience and provide a showcase for local and young musicians.

Tickets & Performers click here or contact Dave Streatfield on 07734 504274

'The crowd is always attentive and the atmosphere friendly and informal... I would recommend that you get down to one of the great open mic events run by Cambridge Acoustic Nights' Weekend Notes

April 29th 2017 Open Stage

On Saturday April 8th we are hosting an open stage evening downstairs at CB2, with a 20-minute set from special guest
Garance Monfort. Garance is a singer-songwriter, artist and illustrator, originally from Cherbourg in France, whose influences include Leonard Cohen and Sylvia Plath, and who sings a range of styles including jazz and chanson française as well as folk and acoustic music. She has played several of our open stage evenings and we are looking forward to a slightly longer set of her delightful songs. See her website https://soundcloud.com/garancemonfort.

We also welcome local performers including:
Narissa
Gees Boland
Philip Rundall
David Wilson
Gavin Mitchell
Dave Pierce
James Judd
Mike and Jon
Rhys Wilson
John Meed
Dave Streatfield

If you'd like to reserve tickets please email us via the logo below, or phone Dave on 07734 504274.

If you book beforehand to eat at CB2, tell them you are coming to our gig and they should give you a 10% discount. Click here


Doors will open at 8pm and the music starts at 8.30; tickets are £4. CB2 is in Norfolk Street, Cambridge CB1 2LD. Email us or phone Dave on 07734 504274 to reserve tickets
.
8.30pm Tickets £4.00.

Tickets are likely to be available on the door.
Thursday May 11th 2017 - Special concert featuring Meghan Saletta

On Thursday May 11th we have the enormous pleasure of welcoming back our good friend Meghan Saletta who graced CB2 many times during her year in Cambridge, and her recent CD Dreaming features 8 songs inspired by her time here. Together they form a sonic memory, recounting the magic and uncertainty of a young adult finding herself in a foreign land. "These songs were written in the rolling green meadows and bright storybook-like gardens of Cambridge… some alone in my bedroom, and others in the upstairs function room at the pub where I worked," Meghan explains. Meghan, originally from Chicago, is now living in California but is back for a few days and has kindly agreed to return once more to Cambridge Acoustic Nights. Visit her website at http://www.meghansalettamusic.com/ or have a listen to her beautifully moving song about her time in Cambridge, Foreign Land.

Meghan will be joined by her friend S J Mortimer, and support will come from John Meed and Dave Streatfield.
Tickets will be £5.

Doors will open at 7.30pm and the music starts at 8.00; tickets are £5. CB2 is in Norfolk Street, Cambridge CB1 2LD. Email us or phone Dave on 07734 504274 to reserve tickets.