Cambridge Acoustic Nights

- CB2 5/7 Norfolk St, Cambridge CB1 2LD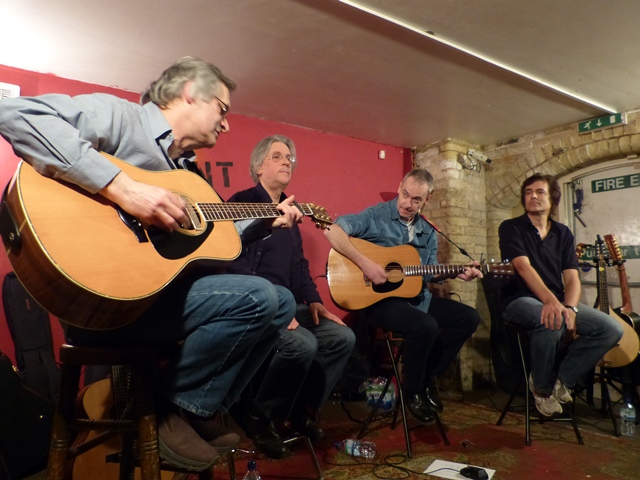 The Listening Post
Click Here (or ear) to listen to samples from regular performers at Cambridge Acoustic Nights. Visit the Listening Post page regularly as it will change and grow. There are also videos from the basement sessions here.

About Us
If you enjoy Acoustic Music on a Saturday night why not come to the CB2 basement and have a fabulous evening's entertainment? We run unplugged acoustic open stage events two or three times a month.

Do you play or sing yourself?

If you'd like to play then entrance is free. But make sure you book a two-song slot beforehand - we are always full by the time the evening arrives! Click below to join our email list or find out more:
We sometimes also have a featured artist, but please do not contact us to request one of these - we offer featured slots to people who have come along to the open stage evenings.

Scroll down for details of the next Acoustic Nights.

Click here to visit the What's On page
We share CB2 Saturday evenings with 'Strummers' Strummers provide music with a social conscience and provide a showcase for local and young musicians.

Tickets & Performers click here or contact Dave Streatfield on 07734 504274

'The crowd is always attentive and the atmosphere friendly and informal... I would recommend that you get down to one of the great open mic events run by Cambridge Acoustic Nights' Weekend Notes

February 18th 2016 Open Stage

On Saturday February 18th we are hosting another of our popular Open Stages.


There will also be
music from a range of local musicians including:

Kyan
Steve and Charlotte
Ross John Martin
Chiara Ferrara
Alex Petrie
Leon Gormley
Chris Fox
Ken Damien
Colin Rudwick
Thomas Neal
Dave Streatfield
If you'd like to reserve tickets please message us via the open stage link below.

If you book beforehand to eat at CB2, tell them you are coming to our gig and they should give you a 10% discount. Click here


Doors will open at 8pm and the music starts at 8.30; tickets are £4. CB2 is in Norfolk Street, Cambridge CB1 2LD. Message us if you'd like to reserve tickets
.
8.30pm Tickets £4.00.

Tickets are likely to be available on the door.
So Long Acoustic Routes
It is with a good deal of sadness that after 15 years of the best in acoustic music on both sides of the Atlantic that Acoustic Routes closed it doors at CB2 for the last time on December 3rd. We all thank Bernard Hoskin for his tireless efforts in bringing fabulous music to Cambridge. Bernard hopes to see Acoustic Routes revived soon so keep your eye on the webpage.