Cambridge Acoustic Nights

- CB2 5/7 Norfolk St, Cambridge CB1 2LD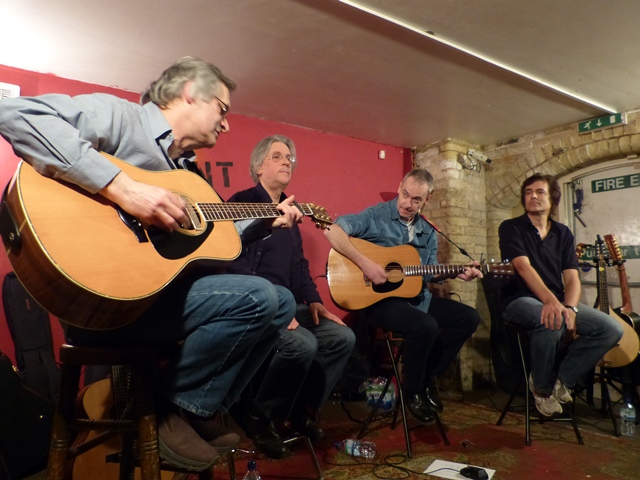 The Listening Post
Click Here (or ear) to listen to samples from regular performers at Cambridge Acoustic Nights. Visit the Listening Post page regularly as it will change and grow. There are also videos of live performances here.

About Us
If you enjoy Acoustic Music on a Saturday night why not come to the CB2 basement and have a fabulous evening's entertainment? We run unplugged acoustic open stage events two or three times a month.

Do you play or sing yourself?

If you'd like to play then entrance is free. But make sure you book a two-song slot beforehand - we are always full by the time the evening arrives! Click below to join our email list or find out more:
We sometimes also have a featured artist, but please do not contact us to request one of these - we offer featured slots to people who have come along to the open stage evenings.

Scroll down for details of the next Acoustic Nights.

Click here to visit the What's On page
We share CB2 Saturday evenings with 'Strummers' Strummers provide music with a social conscience and provide a showcase for local and young musicians.

Tickets & Performers click here or contact Dave Streatfield on 07734 504274

'The crowd is always attentive and the atmosphere friendly and informal... I would recommend that you get down to one of the great open mic events run by Cambridge Acoustic Nights' Weekend Notes
Saturday November 11th 2017 Open Stage with Zoe Wren


On Saturday November 11th we shall be holding another open stage downstairs at CB2, with special guest Zoe Wren
.
Folk-influenced singer-songwriter Zoё Wren was the youngest performer to play the main stage at Folkstock Festival when she was just 16. A recipient of the 2017 PRS Lynsey de Paul Prize for emerging female singer-songwriters, Zoё's new EP, based on bold contemporary re-tellings of traditional folk stories, is supported by this grant, and will be released in November. Her debut EP Pandora's Box was released with Folkstock in 2014, and her most recent single, Nothing to See, was released in 2016 and received airplay on BBC Radio 2 on the Bob Harris show. Zoё has played the Cambridge Folk Festival. Check her website
http://www.zoewren.com
or watch her performing 'Just a song away' below.
'It takes an especially strong new voice to rise above the general hubbub of the current English folk song flashmob... Zoё showcases a maturing voice and songs that have depth to match their indisputable charm'. (Instrumentali Musicale)
On November 11th our local performers will include:

Gees Boland
Richard St John
Brian Harvey
Philip Rundall
Tara Westover
David Wilson
Rhys Wilson
John Meed
Dave Streatfield


If you'd like to reserve tickets please email us via the link below or phone Dave on 07734 504274.

If you book beforehand to eat at CB2, tell them you are coming to our gig and they should give you a 10% discount. Click here


Doors will open at 8pm and the music starts at 8.30; tickets are £4. CB2 is in Norfolk Street, Cambridge CB1 2LD. Phone Dave on 07734 504274 to reserve tickets
.
8.30pm Tickets £4.00.

Tickets are likely to be available on the door.