Cambridge Acoustic Nights

We are based at the Thrive Cafe & Bistro to 5-7 Norfolk St, Cambridge CB1 2LD

Performers who would like a floor spot to do so by contacting u
s.
Click Here
We are grateful for the support of Thrive and hope you choose to eat there before or during the show. We recommend that you book a table in advance so you be sure of your meal. You can check out their menu by clicking on the link below.

Performances start at 8:00pm and the show will finish at 10:15pm

There will be a bar before and during the performance and it will be open at the Interval.
Admission will be £5.00 on the door (or £4.50 in advance) for audience members and £2.00 for performers. If you'd like to buy a ticket you can purchase on line -
click here
Our next event is Sat 2nd Dec 2023 featuring Orphean Sprig and Mnatobi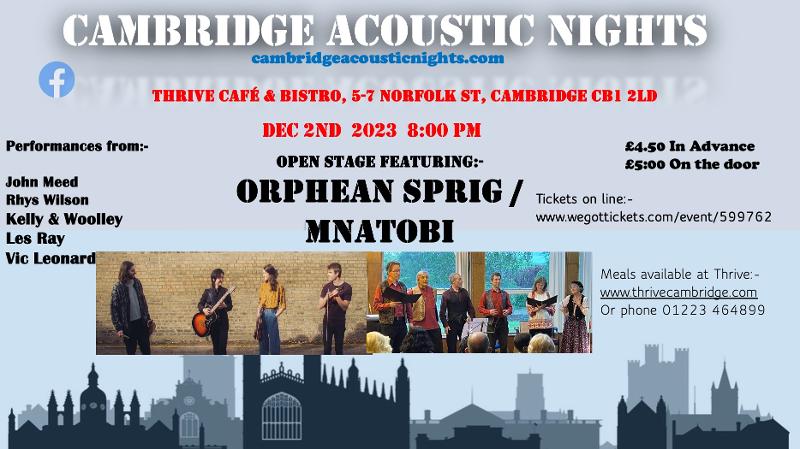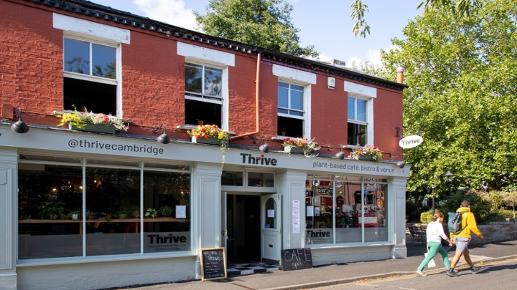 THRIVE CAFE & BISTRO
5-7 Norfolk St
Cambridge CB1 2LD
01223 464899
Click on image to visit the Thrive website

During lockdown several online shows lasting around 45 minutes were broadcast on YouTube Live.

VISIT THE VIDEO PAGE TO SEE PREVIOUS ONLINE SHOWS

Want to perform at Cambridge Acoustic Nights? Click here or on the logo below.